When we sought out to develop the best student growth program, we determined early on that online platforms as a medium for instruction would be a powerful tool, and for many reasons today's parents will value! While not perfect or without limitations, our data suggest that overall, this method has potential to lead to better outcomes for both student growth and college admissions. Adapting to persistent online learning has become an opportunity for our educational model to evolve in the context of one-on-one learning.
Watch our videos: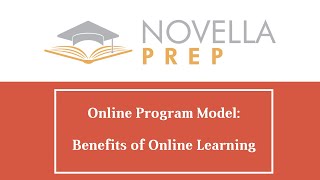 Our Online Program Model: Why It Works
After a difficult school year defined largely by increased feelings of anxiety and social isolation, it can be easy to associate online education itself with subpar engagement, effectiveness, or performance. Recent reports from the U.S. Department of Education have found negative impacts of the stress, anxiety, distractions, and other unprecedented experiences of last year's schooling environments on students' academic growth throughout the pandemic ("Education in a Pandemic," 2021).
However, Novella Prep's online College Planning and Study Skills programs differ from the online learning so many of today's students have experienced and come to expect. Where districts, through no fault of their own, were left underprepared to adapt to a virtual platform, Novella Prep stood ready to pivot with our highly-qualified teaching staff and over 15 years of online teaching experience.
In a traditional virtual classroom, it's almost impossible for teachers to engage dozens of students individually, allowing learners to be easily distracted by the temptations of phones, social media and more. No at-home classroom management, no cultivation of at-home best practices as a learner. This cycle of disengagement and distraction has led many parents, students, and even educators to blame online learning itself for resulting academic outcomes, rather than that way it is implemented.
Through our one-on-one approach, our highly-qualified teaching staff engage students directly, leaving no opportunity for distraction. Our model is personalized to prioritize the unique needs, interests, and motivators that keep your student focused on achieving their goals and long-term trajectories. We strive to not only promote better academic outcomes, but to have students feel more confident and capable of self-management and holistic improvement across their life.
Our online program model offers a number of unique benefits:
Hiring Nationwide Experts. With no geographic restrictions, our online model allows us to recruit and hire the best nationwide teaching and admissions experts to provide your student with unmatched guidance, informed by decades of education experience.
Meeting Students Where They Are. Literally. We've found that engaging with students directly in their homework environment makes it easy to then translate the skills, strategies, and best practices we cover into completing daily study tasks. Getting to know your student in the environment in which they are most comfortable offers distinct advantages when it comes to understanding who your child is and wishes to become.
Flexible Scheduling. Rather than waste time and resources coordinating travel arrangements, our Novella teachers and advisors are available at the click of a button. This flexibility allows your student to stay on track and in constant communication with our Novella team.
Collaborative Online Tools. Using our collection of carefully curated online tools and resources, such as Quizlet, Khan Academy, scheduling apps, and Novella's very own proprietary educational model, we've found online efforts to be increasingly productive, organized, and collaborative. Sharing screens with our students and guiding them through the strategic use of each tool ensures they are used most effectively to support student organization, performance, learning and engagement.
Real-Time Communication. We are able to efficiently track student growth, provide regular progress check-ins with parents, and ensure timely organization and task management are at the forefront of your student's unique educational journey. Online, our team is positioned to help resolve issues in real time, as they arise, so your student can live the day!
Data-Informed Outcomes. With nearly a decade of qualitative and quantitative data, and over half of that time supporting most students in an online setting, we have seen tremendous growth sustaining equal or improved outcomes for academic performance and admissions outcomes.
Delivered in this way, online learning is associated with positive student outcomes. Programs, such as ours, that center pedagogical elements of consistent engagement, timely communication, organization, flexible use of technology, and strong student-teacher relationships can produce highly effective online learning outcomes for students (Sun & Chen, 2016). Such research guides our approach and engagement with students to ensure we offer our families only the very best in online services and outcomes.
As long-time educators, there are certainly things we wish could be maintained in a fully virtual environment. We miss the casual conversations with parents in-between meetings, and the unique joys that interpersonal interactions often bring. However, we continue to deliver on our guiding promise to provide the best growth model program to your child. We've found our online model to be the best shape for our programs to take towards achieving our pursuit of supporting students' academic and personal success.
Our results speak for themselves…
If you're looking to:
Improve grades, self-confidence, engagement, organization and planning
Enhance student motivation, focus, and personal agency
Encourage goal-setting and on-time completion
Promote adequate sleep, balanced digital use, and healthy exercise habits
Cultivate student interests and skills
Improve Executive Functioning skills
AND improve stress reduction and management
Novella's online services are the answer!
Our web-based weekly student check-in tool has already shown to be crucial for monitoring students' progress and understanding of situational or emotional barriers to success. Our preliminary findings show that Novella is quickly building capacity toward capabilities for individualized, data-driven indicators for monitoring the ways our online programs support your student's progress towards achieving these very results.
Hear our Novella families' very own growth stories…
"I'm happy to see my child is taking the initiative in scheduling his own meetings and managing his time with you. Since he doesn't need someone to drive him, he can do this when he feels it's best for him."
– Novella Parent, Study Skills
"Even though she's never met you in person, I'm glad to hear how well you are working together and that she trusts you."
– Novella Parent, Study Skills
"Scheduling has been easier since we started online, between all of the after school sports and activities. We feel he has a lot more flexibility."
– Novella Parent, Study Skills
"I feel he can use the 15-minute check-in meeting times more freely and as a help line when he needs help managing his assignments."
– Novella Parent, Study Skills
Moving forward, we will continue to reassess our model to ensure we are providing families with the very best service provision possible. We aim to prioritize the health and safety of our students and staff, and will wait until there is more consistency regarding the trajectory of the pandemic and each of our students are of vaccination age eligibility to ensure all may be served safely.
As always, we value your feedback…
Please feel welcome to get in touch and share your thoughts with us by contacting us for a consultation or emailing info@novellaprep.com